Advertiser Article Year End Network Function 12 Nov 2020
Prof Schwella visits Graaff-Reinet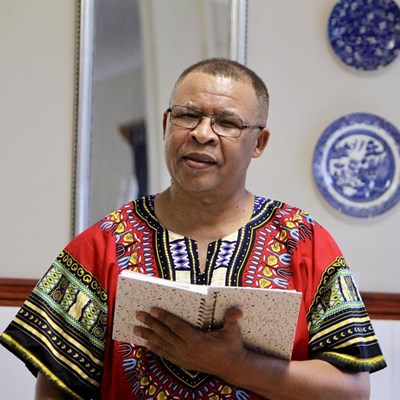 Video
GRAAFF-REINET NEWS & VIDEO – Prof Erwin Schwella, a well-known political analyst and Dean of the School of Social Innovation in Wellington, addressed the Graaff-Reinet Chamber of Commerce at their year-end function on Thursday 12 November.
Schwella was joined by his wife, Lizette, who is a psychologist.
The event was held at Karoo Park Guesthouse at 18:00.
The Chairperson of the chamber, Hento Davids, welcomed guests and introduced Schwella. Davids also extended a warm welcome to Deon de Vos, mayor of the Dr Beyers Naudé Local Municipality.
"We've had to adapt to a new normal. Thank you for your support during this challenging year," Davids said to the members and thanked Kim von Behr Imrie and Arland Stanley for helping to organise the event.
The theme of the evening was Traders in Hope: Business People as Wealth Creators in Local Communities. Schwella kicked off his discussion with a few focus points from a piece written by Dr Anton Rupert in 1965, titled Die Resep vir Suksesvolle Leiers vir die Toekoms (The Recipe for Successful Leaders for the Future). The work was shared with Schwella by a chamber member, Johan Bouwer.
In short, Rupert wrote that leaders must have integrity and willpower, be an inspiration, and have discipline and authority. Above all, leaders are just as good as their last performance and must show continues leadership.
Watch a video below:
Referring back to the theme of the evening, Schwella stated that we live in an environment unlike ever before, and we must therefore continuously adapt our leadership styles and skills
"We live in a society with a love for power. We need to bring in the power of love," Schwella said. According to him, there is bound to be conflict in a highly-competitive and diverse society. "But we now see that social cohesion is being broken down across the country. We have come to a place where, as (philosopher) Thomas Hobbes said, life is solitary, nasty, poor, brutish and short."
Schwella believes that leaders must coordinate with others, they must judge but not condemn, and they must address systematic issues, not just the symptoms of these issues.
"Local leaders must also be sensitive and sensible towards others, have respect and perseverance, create successes and share the proof of their concepts with neighbouring towns."
Following an informal question-and-answer session, guests and chamber members enjoyed a delicious meal and dessert, provided by the guesthouse.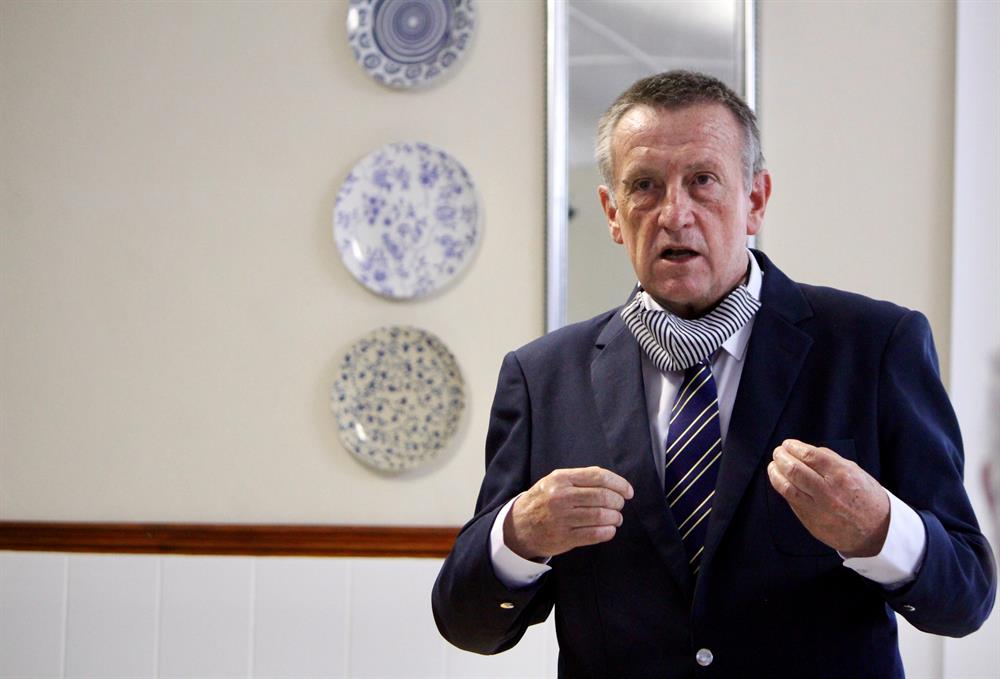 More about our guest speaker:
Bio: Erwin Schwella
Erwin Schwella grew up in South Africa during the years of apartheid in South Africa and benefited from this system. His parents were first generation urbanised Afrikaners. His father worked as an artisan and committed trade unionist on the South African Railways who also served as a local government councillor for many years. His mother, an assistant nurse, mostly cared for the family in their lower middle class home where hard work and dedication was encouraged.

The values in his parental home were about the importance of work and to get the best education possible. After school he was conscripted into the Army. After a year as infantry junior leader he studied at Stellenbosch University. He completed degrees in law, sociology, public administration and a PhD in which he analysed the role of the media in the (lack) of public accountability in South African governance under apartheid.

After working in government he joined the University of Stellenbosch as a junior lecturer in 1981. During the 1980's he came under the impression of the real consequences of apartheid and an academic and activist critic of this system. During the 1990's he took part in the shaping of the new South Africa inside and outside South Africa forging new institutions for South African governance. He became a full professor at Stellenbosch in 1992 where he served for 44 years until taking emeritus status as the Professor of Public Leadership at the end of 2018. He is currently still the Professor of Public Leadership at the Law School of Tilburg University.
Since April 2019 he is the Dean of the School of Social Innovation at the School of Social Innovation at the Hugenote Kollege in Wellington, South Africa. In this capacity he is establishing and professionalising cutting edge social innovation thinking in South Africa to address the many complex adaptive challenges which are also referred to as "wicked" problems in South African society and which includes poverty, inequality and unemployment.

He served and still serves as an advisor to all spheres of South African governance and has consulted to international and national executives and governance institutions.
He is a well-known political analyst and commentator on South African governance and politics on South African media and has commented for global publications on South Africa.

Erwin Schwella is passionate about service delivery and hates bullies. He is driven by a search for justice and equity and professional service delivery. By nature he gets involved in entrepreneurial and innovative activities. He enjoys starting projects, working in networks and building institutions. He is by nature innovative and socially entrepreneurial.
Erwin Schwella loves good wine and good food and travelling to find these in exquisite settings in his own and other countries. Erwin Schwella also firmly believes in the faith based golden rule of doing unto others as you want done unto yourself.
Specialties
Leadership, Social Innovation, Public Governance, Policy-making and Analysis, Strategic Thinking, Institution Building, Organization Development, Change Management.